DEATH AND BROKENNESS IN HAITI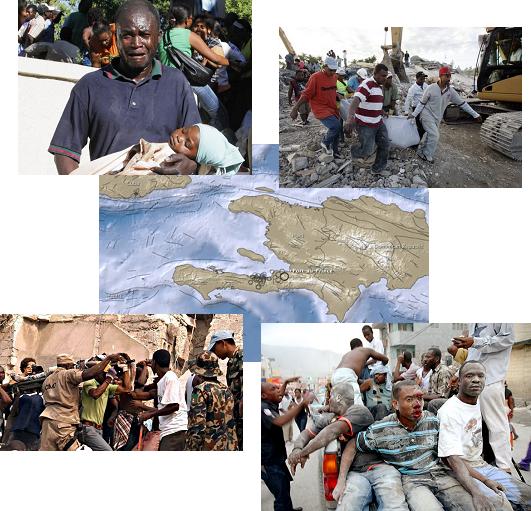 AFTER A MAJOR EARTHQUAKE
Dr. Denis Francois... who is pictured in the pictures below is supportive of "the Children Living in Darkness." Dr. Francois is a Bishop in the Evangelical Christian Church. He is a Vice President in the American Association of Christian Therapists. He also is the Chancelor of the school "Dayspring Christian University.
Dr. Francois has lost family in the recent Haiti earthquake and would receive donations to travel to Haiti to check on his family... You may send funds to the DMI International Heaquarters or straight to Dr. Francois at:
Dr. Denis Francois
4240 NW 36th Ave.
Fort Lauderdale, FL 33309
LET GOD SPEAK TO YOU TODAY
Dr. Francois is also head of 8 churches and 8 schools in Haiti along with being a "Children Living in Darkness supportive." You may reach him at this number:
*9542971665*
Dr. Denis Francois delivering food and goods to
Haiti before the latest earthquake
Our Mission
We are National and International Children Living in Darkness Supportive dedicated to:
Leading children to Christ Jesus
Feeding hungry children and teenagers
Providing homework assistance to school and college student
Giving toys, gifts, video games, homes
Providing mattress and beds
Giving School Supplies such as notebooks, pencils and paper
Giving regular clothes and school uniforms
Providing hospitalization support
Building shelters, restore school, replace chairs, and benches
Providing motorcycles & bicycles to poor, less fortunate children and teenagers
Providing financial support for the professors
Providing computer classes
Counceling program for youth
Bible Institute, college and university
Providing a variety of excellent children and youth Christian activities, recreation and entertainment. Building a national renowned Youth Christian day and nightclub for youth to go ater school, weekends, holidays, and year-round.
Providing and demonstrating to youth that they can take their talents and be sucessful in working for God and the body of Christ.
Assisting parents and the church in providing Christian guidance to youth.
Help our children's Youth Mission:
Please share a generous financial gift today and help us to complete the children and youth program; we are counting on your assistance in helping us to support this very needed Outreach Ministry.
Your tax deductible gift of $20, $40, $50, $10, $30, $15, $100, $1000 etc.Or money order would be greatly appreciated. Please send your contribution to: Children Living in darkness Supportive.