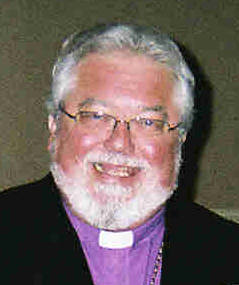 The Most Reverend Gary W. Barkman, Ph.D., D.C.C., Th.D., D.Min.
Presiding Patriarch, Archbishop and President of the Dayspring Ministry Group, which includes; Dayspring Ministries International, The Evangelical Christian Church Worldwide (Christian Disciples, The Apostolic Episcopal Church, U.S.A., Diocese of the United States, The Ameerican Association of Christian Therapists, Dayspring Christian University
Dr. Barkman has been involved in many areas of ministry. He has been a pastor for many years and has become very accomplished as a counselor/therapist. Dr. Barkman has also organized three churches as pastor. Dr. Barkman is president of AACT, Presiding Archbishop of Dayspring Ministries International and the Evangelical Christian Church. Dr. Barkman has exceptional administrative abilities and is able to multi-task very well. He has excelled in all that he has attempted.

EDUCATION


Doctor of Philosophy in Biblical Studies Bethel Bible College and Seminary, Jonesboro, Arkansas, December 2001
Doctor of Ministry, Doctor Of Christian Counseling, Southwest Bible College & Seminary, Jennings, Louisiana, November 1997, December 1998;
Perkins School of Theology, S.M.U., Dallas, Texas June 1986 to May 1989 (Doctor of Ministry Program, no degree acquired, 27 semester hours);
Master of Divinity, Brite Divinity School, T.C.U., Ft. Worth, Texas 1980;
Bachelor of Arts, Associate of Arts, Southwestern Assemblies of God University, Waxahachie, Texas, 1972;
University of Texas at Arlington, 1971 (Summer session, no degree acquired); Diploma, Mansfield High School, Mansfield, Louisiana, 1964
PERSONAL DATA
Born, November 22, 1946; Honorable discharge, July 1968; Married, August 31, 2002; Wife: Dwana C. Barkman; Ordained Minister, Ordained with the Evangelical Christian Church and the Canadian Evangelical Christian Church … which merged into one denomination on February 13, 2006.
POSITIONS HELD
Member, Board of Directors, Positive Solutions of Evergreen, (Marriage enrichment, divorce recovery seminars), 1997 to 2002;
District Moderator (Area Minister), The Christian Church in Oklahoma, Northwest District (Area), Spring 1998 to August 2000;
Member, Committee to Research Lay Ministry in Oklahoma, The Christian Church in Oklahoma, Fall 1998 to September 1999;
Director, Licensed Lay Preachers Training, The Christian Church in Oklahoma, September 1999 to January 2001;
New Church Start, Dayspring Christian Church (DOC), Wichita Falls, Texas, Not successful, 2001 to 2002;
National Director of Area Coordinators, AEGA Ministries Int. Inc.; Monroe, LA, March 2000 to August 2002;
President, AACT, American Association of Christian Therapists, Granbury, Texas, September; 2000 to present;
President, ITCT, Institute of Theology & Christian Therapy, Fall 2000 to present
Board of Elders, Dayspring Ministries International, ECC, August 31, 2002 to present.
Presiding Archbishop, Dayspring Ministries International and the The Evangelical Christian Church, February 2003 to present
HONORS

Who's Who Among Students in American Universities & Colleges, 1971-72;
Outstanding Young American, Listed in 1979 Encyclopedia;
Member, 100 Club, Pentecostal Holiness Church, Membership for those organizing churches, 1993;
Bishop's Award, Pentecostal Holiness Church, Award given to those who successfully organize a local church. May 1993;
Leadership Award, In Recognition of Outstanding Leadership Abilities AEGA Ministries International Inc., World Conference, June 1999;
Honored Professional in National Registers Who's Who in Executives and Businesses, 2000 - 2001 Edition;
"Kentucky Colonel" Order of Kentucky Colonels, Kentucky, Honorable Paul E. Patton, Governor 2003